about LOVE
My entry into the bloggers quilt festival.
This quilt was designed and made for my husband (aka design consultant). It celebrates all the dogs that we have been fortunate to have in our lives. Especially Prudence (our first dog together) and agent Ninety-Nine. We lost the niner niner a about a year and a half ago but that's when Kyra Kaos entered our lives.
It all started when I ran across this quilt by Tula Pink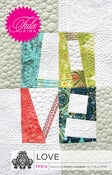 Shortly after I read this post on the billboard quilt along by
Elizabeth
I sat down a drafted a quilt top. Which I then decided was all the wrong dimensions. Thus all the scribbles.
While I was surfing the web I ran across
Tonya's
blog and decided to buy her book.
She also has a couple of great tutorials on her blog.
The back is based on a quartered log cabin block by Nettie Peterson in this book
Hubby loves color so the back is bright for him.
Quilt stats
Size: 56" x 58"
Quilting: Practicing my FMQ and a lot of straight line quilting by me.
Fabrics: Most of the solids are Laura Gunn's painters canvas. The binding is Kona jade green (selected by the design consultant).